| | | |
| --- | --- | --- |
| " | You still don't understand what you're dealing with, d'you...? The perfect organism... Its structural perfection is matched only by its hostility... | " |
| | ~ Ash, referring to the Xenomorph. | |
The Xenomorph is the titular alien of the same name series. It also appears in the Alien vs Predator movies.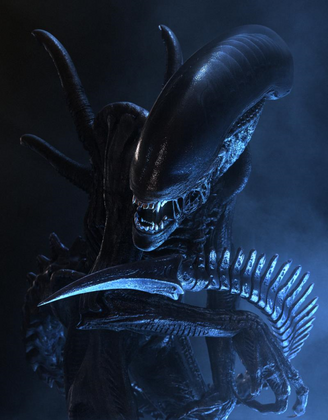 Wikia Match-Ups
[
]
WARNING: The following tab will reveal the numbers of wins and losses for the following character. Read at your own risk.
Battle Record
Wins: 2
Losses: 0
Draws: 0
Possible Opponents
[
]
Information
[
]
Background
[
]
Height: 7'+
Weight: 325lbs
Full name: Xenomorph XX121
Extraterrestrial endoparasitoids
Descended from biological weapons created by the "Engineers" and the rogue synthetic, David
Homeworld: Xenomorph Prime
Name literally translates to "strange form" from Greek ξενος, xenos=strange and morphe=form
Scientific names: Internecivus raptus, Linguafoeda acheronsis
Lifespan: Unknown
Diet: Meat
Abilities and Arsenal
[
]
Claws to slash
Fangs to bite
Spiked tails to lash or stab victims from range
Acid blood
Maw that can puncture skulls
Superhuman strength
Superhuman speed
Insect-like dexterity
Cunning intelligence
High adaptability
Rapid maturity
Obsession and persistence
Ability to partially assume the characteristics of their hosts upon birth
Unnatural aggression
Wall Climbing/Scaling
Feats
[
]
Ripped a gun in half
Charged and broke down a barricaded door
Can rip through steel with no effort
Rips through a steel grate floor with little effort
Smashed through a confined steel grate ceiling
Individuals can literally smash through a solid steel bulkhead
Can rip apart fully armed soldiers
Rams through glass uninjured
Instantly ripped a locker door clean off
Pried open an automated metal door with its bare hands
Ripped a man in half with a swipe of its claw
A weakened Xenomorph threw a woman several feet into the air
Grown men are no problem at all for a Xenomorph's superior strength
Uses blunt force of its tail to send an uninjured Parker flying across the coolant room
Overcame the vacuum of space in seconds
Ragdolled a grown man instantly and carried him with one hand without losing mobility
Yanked a man's throat out
Tail can effortlessly hold a fully armored Marine off the ground
Used its tail to snap a Marine's neck
Ripped a guy's chest up then headbutted his whole head into the wound
A Warrior pounced at a weaponized exosuit and knocked it down
A larger breed known as The Raven single handedly cleared a massive pile of debris
Multiple soldiers got their limbs ripped off
Broke through welded steel doors
Two Warriors smashed their way into the building from the outside and broke the floor upon landing
Dodged a point-blank shotgun blast
Dodged an assault rifle
Dodged close range gunfire while climbing a ladder
Can dodge mid-range bullets
Dodged an RPG underwater
Dodged a blast from a shoulder cannon
Dodges another blast from a Predator
Burst out of the water onto a ladder
Leaped across a server room before a man could react
Landed on a moving APC
Tanks punches and kicks from Predators regularly
Tanked multiple shotgun blasts with no acid damage to the environment
Survived impalement - twice
Tanks military-grade bullet fire
Does not need to breathe oxygen
Casually shrugs off bullets
Tanks plasma blasts to the chest
Tanks a huge explosion from a dozen explosive barrels
Survived getting its brains blown out
Completely unaffected when crawling on an overloading reactor
Future military sidearm rounds ricochets off Warrior's head
The Alien's body was not destroyed by a thermal shock of over 6,200 degrees Fahrenheit
Completely bulletproof to Marine firepower
Pulse Rifle bullets can be seen ricocheting off Warrior's heads
One of the most feared creatures in the galaxy
Are equal to Predators as hunters
Have killed many humans with facehuggers
Have destroyed trained soldiers
Are dangerous enough for Predators to consider them worthy prey
Stealthy enough to catch a Predator offguard numerous times
Have fought and defeated Predators
As well as Terminators
Hell, even Green Lantern!
Weaknesses
[
]
Extremely vulnerable to fire and heat
Durability has limits, like heavy armor rounds from machine guns can hurt or even kill them
They have animalistic instincts and aren't very intelligent compared to humans
It usually takes multiple Xenomorphs to overpower soldiers
Can be arrogant and underestimate their prey