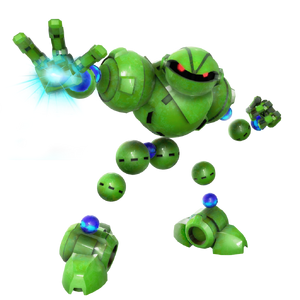 | | | |
| --- | --- | --- |
| " | Chicken, fight like a robot! | " |
| | ~ Vectorman | |
Vectorman is the titular character from its eponymous series.
Wiki Match-Ups So Far
Edit
Possible Opponents
Edit
Information
Edit
Background
Edit
Age: Unknown
Height: 7 orbs high
Weight: Unknown
Occupation: Sludge Barge Pilot
Blaster: One in each hand with unlimited ammo. Can slow down decents just by shooting down while in the air and easily blasts weak walls apart.
Jet Boosters: Allows for a double jump. Jets can inflict massive damage to enemies if timed right.
Wave Gun: Fires a five-way spread that can go through walls.
Bolo Gun: A slow firing weapon that can hit an enemy and the ones behind it as well.
Pulse Beam: Shoots small bursts of static pulse.
Laser Beam: Fires multiple laser beams at once.
Energy Shot: Fires a single power laser shot at a time.
Nucleus Shield: Creates a shield which protects Vectorman for a short while before.
Overkill: Fires powerful blasts that wipes out anything on-screen. Was strong enough to destroy an entire fortress from the inside.
Tank: Turns Vectorman into a tank which can fire missiles.
Drill: Transforms Vectorman into a drill that can break through certain floors.
Missile: Transforms Vectorman into a missile that can burst through ceilings and kill any enemies he comes in contact.
Buggy: Turns Vectorman into a car-like form that break through walls and can ram into enemies.
Bomb: Turns Vectorman into a bomb that wipes out nearby enemies, walls, floors, and ceilings.
Jet: Allows Vectorman to fly around everywhere and ram into enemies.
Parachute: Allows Vectorman to twirl his arms around to make a slow decent and ram into enemies.
Shield: Creates a shield that protects Vectorman for 30 seconds This removes any upgrades he has prior to using the shield and it will disappear if he grabs another upgrade.
Scorpion Tail: Morphs Vectorman's arms into a scorpion tail that protrudes from his back. He can whip his tail to kill enemies quickly and can even walk on lava.
Tick Punch: Allows Vectorman to throw powerful close ranged punches at enemies. Apparently strong enough to break boulders into pieces.
Rhino Charge: Gives Vectorman the horns of a rhino so he can quickly charge at enemies
Tornado: Turns Vectorman into a small tornado that can destroy enemies and blocks he comes in contact with.
Helicopter: Makes Vectorman form orbs on his back in the form of helicopter blades to allow for safe descents.
Roller Skate: Gives him roller skate orbs on his feet, this allow him to move at a faster pace while he shoots down enemies.
Feats & Stats
Edit
Can destroy a weak wall by shooting at it (Strength)
His Drill morph can break through floors (Strength)
His Bomb morph can wipe out walls, floors and ceilings (Strength)
His Tick Punch morph is apparently strong enough to break boulders into pieces (Strength)
Destroyed an entire fortress from the inside by using Overkill (Strength)
Survived an explosion in the Sludge Barge while it was in orbit and managed to safely make it down to Earth (Durability)
Can walk on lava when in his Scorpion Tail morph (Durability)
Skills & Experience
Edit
Resistances & Immunities
Edit
Faults & Weaknesses
Edit