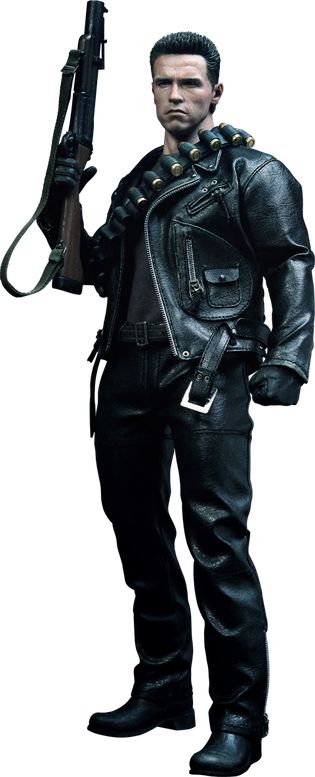 | | | |
| --- | --- | --- |
| " | I'll be back. | " |
| | ~ The Terminator | |
Terminator is the main protagonist of the same name series.
Wikia Match-Ups
Edit
The Terminator VS The Predator
Information
Edit
Background
Edit
Cyberdyne Research Systems Series 850 Model 101 Infiltration Combat Unit
Manufacturer: Skynet
Height: 180m / 6'22
Weight: 172kg / 380lbs
Core component: Coltan/Columbite-tantalite (can withstand extreme temperatures over 3000*C, almost two times heavier than titanium, used in furnaces, engines, and mobile phones)
Power source: 2 hydrogen fuel cells (single cell can last up to 120 years)
Always comes back
Programming Routines
Edit
Adaptability: Learning machine; adapts to human behaviors through observation, interaction, and question
Combat and weaponry: all combat and weaponry throughout earth's history, includes data on all previousT-800 models.
Group Infiltration
Human anatomy
Voice mimicry
Basic psychology 
M-27 Phased Plasma Rifle
AMT Hardballer .45 Longslide
Franchi SPAS-12 Shotgun
M79 Grenade Launcher
Handheld GE M134 Minigun
Feats & Stats
Edit
Survived massive blows, power shortages, and getting dragged through an entire city
Has tricked humans and machines alike
Killed the technically superior T-900s, T-1000, and T-X, with the latter being designed to be an Anti-Terminator.
Escaped liquid nitrogen freeze twice
Can lift several cars
Program survived and revived at T3: The Rise of the Machines
Successfully killed John Connor
Resistances & Immunities
Edit
Faults & Weaknesses
Edit
Vulnerable to hacking (got reprogrammed four times)
Detectable by dogs
Dangerous power source (extensive damage may rupture the cell to critical condition)
Vulnerable to precise attacks from behind
Worst fear: Hydraulic presses
Community content is available under
CC-BY-SA
unless otherwise noted.