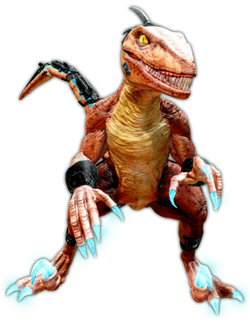 Riptor is a character from the Killer Instinct series.
Wiki Match-Ups So Far
Edit
Information
Edit
Background
Edit
Height: 7'
Weight: 700 lbs.
Genetically Engineered
Designed to be smart and vicious, but backfired
Only 4 years old, so has little combat training
Teeth
Claws
Impaling tail
Can shoot acid
Velociraptor Instincts
Edit
Brutal and cunning
First incapacitates victims
Hunted in packs
Steathy
Alone, they rushed and overpowered opponents
Claw Uppercut
Tailflip
Flaming Venom
Dragon Breath
Jump Rake
Rampage
Reverse Jump Rake
No Mercies
Edit
Unfurls her hood and spits acid in her opponent's face
Stabs and impales her opponent with her tail
Riptor jumps at her opponent, the screen goes black, then we see Riptor burping and farting with a full stomach
Feats & Stats
Edit
Is 4 years old and is already an unstoppable killing machine
Faults & Weaknesses
Edit
Is only 4 years old, as mentioned
Has reached a point where her human emotion and reasoning conflict with her predatory instincts, often confusing her to the blind point of rage and aggression
She starred in the eight episode of the internet series, Death Battle, Yoshi VS Riptor.
So far, she has the second longest Fatal Fiction Info, aside from Reptile.
Community content is available under
CC-BY-SA
unless otherwise noted.