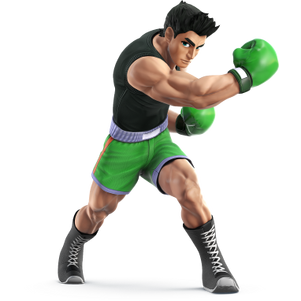 Little Mac is the main protagonist of the Punch Out! Series he previously fought against
Rocky Balboa
in the eight episode of Fatal Fiction:
Rocky Balboa VS Little Mac
.
Fanon Wikia ideas so far
Edit
Fatal Fiction Info
Edit
Background
Edit
Age: 17
Height: 5'8
Born and Raised in Bronx, New York
Looks completely different every time he appears
Win record: Varies on the player
Highly tenacious
Finally excelled in boxing thanks to his former trainer Doc Louis
Promoted from Assist Trophy to full on Smash Brother
Natural Abilities
Edit
Learned the Star Punch from Doc Loius
Developed the Rapid Punch combo
Recovers a bit of health between each round
Can activate his heroic second wind when he is losing
Has a transformation known as Giga Mac
Can spam charge punches
K.O. punches can be devastating to his opponents
Master of figuring out his opponent's pattern and turning it against them
Little Mac has defeated

Mike Tyson (could punch at 1800 PSI)
Dragon-Chan (faster than the eye could track)
Heike Kagero (faster than the eye can track)
Great Tiger (Has teleportation and created after-images)
Don Flamenco (Punched a bull over the horizon)
Mr. Sandman (Destroyed a building)
Piston Honda (Outraced a bullet Train)
Donkey Kong (punched the moon out of orbit)
Still just a teenager
Accused of being a glass cannon
Also accused of being a fragile speedster
He really let himself go in Captain Rainbow
Short?