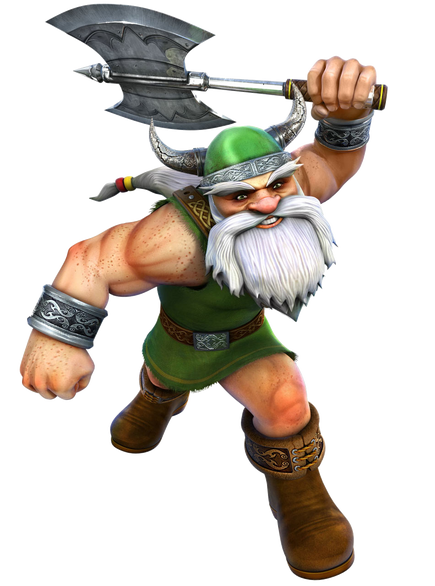 | | | |
| --- | --- | --- |
| " | Death Adder invaded the castle and has taken the king and princess prisoners. My good friend Alex was also killed in the battle. To defeat them is a must and bringing peace to the land is my duty! | " |
| | ~ Gilius Thunderhead | |
Gilius Thunderhead is a character from the Golden Axe series.
Wiki Match-Ups So Far
Edit
Possible Opponents
Edit
Thor
Valhallen (Dexter's Laboratory)
Garrosh Hellscream
Gimli (Lord of the Rings)
Information
Edit
Background
Edit
Age: 150 (Golden Axe)
Species: Dwarf
Place of Birth: Firewood Kingdom
Height: 160 cm (5'03")
Weight: 68 kg (151 lbs)
Alignment: Good
Profession: Dwarf Hero
Weapon of Choice: A silver broad axe
Can ride beasts each with their own unique abilities by jumping on them.
Chicken Leg: Can attack by swinging it's tail. It can also dash at enemies.
Blue Dragon: Can release flames from it's mouth, burning enemies near it.
Red Dragon: Identical to the Blue Dragon, except that it is red and can spit fireballs straight forward.
Golden Axe
Edit
A legendary artifact capable of imbuing the wielder with a number of different powers
The wielder appears to be granted near invincibility and unlimited power
Can also transform into a sentient golden armor, which appears to be the soul of a God used in it's creation that slowly recovered it's powers and awakened (Golden Axe: The Duel)
Includes the ability to make wishes become true (if possible), like cure any illness and transformations.
The axe's form can be altered, being shown to be able to be melted and shaped into other objects in the ending of Panchos and Zoma (Golden Axe: The Duel)
Can kill beings that usually can't be killed by normal means, like Undeads and Demons (Golden Axe: Beast Rider)
Although Sonic the Comic shows that the axe grants the ability to revive the fallen, in Golden Axe: The Duel it is beyond it's power, as shown in Jamm's ending.
Thunder Magic: Gilius can control the element of thunder to cause lightning bolts to strike the arena.
Rock Magic: Gilius controls the element of earth to command boulder falls and landslides on the arena.
Able to use his superior strength to lift and throw enemies (Strength)
Can perform full body tackles if running, able to takedown enemies (Strength)
Defeated Death Adder even when he has a Golden Axe in his hand (Strength)
Destroyed Gareth's lion with his axe (Strength; Non-Canon)
Can swing his axe swiftly and deal fast, heavy blows to string together combos (Speed)
Can jump large distances and then strike with his axe (Speed)
Chased quick and nimble thiefs around (Speed)
Can possibly keep up with Sonic (Speed; Non-Canon)
Took hits from giant enemies like Bad Brothers (Durability)
Fought against his master Death Bringer who is more powerful than Death Adder himself (Durability)
Survived a explosion which engulfed both Death Adder and himself, as he is shown in the tavern at the ending of Golden Axe: The Revenge of Death Adder alongside all heroes and in-game enemies (Durability)