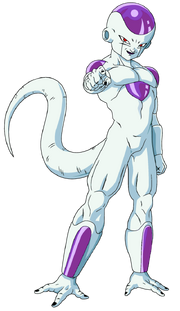 | | | |
| --- | --- | --- |
| " | Simian bastard... I am Lord Frieza. None surpass me! No one even comes close! Etch this into your skull; I am emperor of the universe! The likes of you are only fit to grovel at my feet! Or better still... to die in disgrace AT THE HANDS OF YOUR MASTER!!! | " |
| | ~ Frieza's first defeat at the hands of Goku. | |
Frieza is the main antagonist of the entire Japanese anime television series, Dragon Ball Z.
Wiki Match-Ups
Edit
Information
Edit
Background
Edit
Age: Over 70 years old
Height: 5'2
Weight: Unknown
Ruler of the Galactic Frieza Army
Race: Frieza Race (Hybrid Mutant)
Japanese Name Spelling: Freeza
Alias: Lord Frieza, Emperor Frieza, Bane of the Universe, Emperor of Evil, F, The Vicious God, Freezer
Archenemy of Goku and Vegeta
Abilities, Techniques and Weapons
Edit
Death techniquies
Edit
Death Ball
Death Beam
Death Psycho Bomb
Death Saucer
Death Wave
Energy blasts
Edit
Ki Blast
Full-Power Energy Wave
Kosengan
Invisible Kosengan
Bang Beam
Iki Wo Hakifuki Tobasu
Punishing Blaster 
Punishing Counter 
Killer Ball 
Crazy Finger Beam 
Kitenai Hanabi 
Flaming Cannon

Continuous Flaming Cannon

Fly Away 
Nightmare Blast 
Explosive Wave
Round Dash 
Full Power Energy Wave 
Full Power Energy Ball
Kiai 
Physical attacks
Edit
Super Strength
Rapid Kick
Punishing Rush
Bakusaiken
High Speed Rush
HAIL Freeza
"It's Just Getting Exciting!"
"You Thought That Was It?"
50% Power Rush
Nova Strike
Tail Attack
Tail Hold
Ruthless Blow
Freeza Head Smash
Freeza Throw
Pursuit Attack
Driving Palm Strike
Hug Maneuver
Leg Drill
Featherlight Touch
Driving Leg Thrust
Tail Whip
Tail Smash
Kick Combo
Sly Downward Hit
Freeza Nightmare
Evil Dance
Flight

Quick Flight
Super Dash
Super Rising

Ki Charge
Teleportation
Instant Transmission
Tranformation
Telekinesis

Psycho Beam
Psycho Blast
Choeki Ball
Mind Lock-On

Raging Soul
Psycho Barrier
50% Power
Power Up
Sonic Warp
Pump Up
Finish Sign
Hi-Tension
Full Power
Long awaited-for 100% 
Irritation Grows
Powering Rage 
Alien Anger!
Force Positioning 
Survival 
Breathing
Immortality
Golden Frieza
Edit
Ultimate Evolution of the Frieza Race
First created and named by Frieza himself
Is the result of Frieza purposefully training for the first time in his life
Becomes nearly the same height at Goku
Massively superior to Goku and Vegeta in their Super Saiyan Blue forms respectively

Goku was even nervous about fighting him, as Vegeta was as well- until his weakness was discovered

Drains stamina rapidly and thus cannot be maintained for long, but Frieza eventually grew to master the form and grow past this weakness
Cage of Light
Feats & Stats
Edit
Killed King Vegeta with a punch to the jaw
Traded blows with Piccolo
Tanked a Kaio-ken x20 Kamehameha from Goku with only light injuries at 50% of his power
Survived Goku's Spirit Bomb
Battled Goku as a Super Saiyan
Survived being blasted into Namek's core and having the planet explode with him inside of it after being completely drained of ki
Destroyed Planet Vegeta
Can rip off people's arms
Skills & Experiences
Edit
Resistances & Immunities
Edit
Faults & Weaknesses
Edit
Death Saucers can be used against him
One of the only main Dragon Ball Z villains without regeneration
Overconfident
Cannot go to 100% Power unless his foe is someone like Goku, who would let him
Community content is available under
CC-BY-SA
unless otherwise noted.