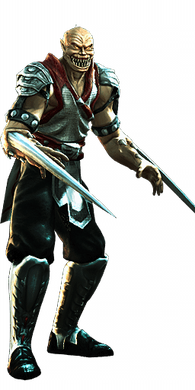 Baraka is an antagonist in the Mortal Kombat Series. He previously fought against
Vega
in the
second episode of Fatal Fiction
.
Wiki Match-Ups So Far
Edit
Information
Edit
Background
Edit
Age Undetermined
Around 2 meters in height
Tarkatan
Loyal to Shao Kahn
Ironically, his name can be translated to either ''bless'' or ''peace''
Surprisingly, he knows Silat and Hung Gar
Cruel and Unpredictable
Sharp blades with long reach
So ferocious, one of his fatalities was deemed too violent for Mortal Kombat
Above average strength, agility and stamina, as well as keen senses
Moves and Fatalities
Edit
Flying Shard
Blade Spin
Blade Swipe
Blade Charge
Chop Chop
Is far from a stranger to mid-air combat
Always finishes fights with a Fatality
Can transform into a vulture but animalaties suck so pretend otherwise
Feats & Stats
Edit
In Mortal Kombat 9's Test Your Might game, Baraka is seen shattering bricks with enough Ki focus on a single strike (Strength)
Can quickly swing his blades and cut (or pierce) his opponent up multiple times (Speed)
Can sheath his claw-like blades almost instantly for the same reason he can unsheathe them (Speed)
Managed to survive getting foot-stomped by Jade (Durability)
Lead the Tarkatan hordes to attack the Wu Shi Academy and managed to capture Sonya Blade in addition to killing many of the Shaolin monk (Skill).
Faults & Weaknesses
Edit
His special attacks leave him wide open
Prefers going berserk with his blades to strategy
Ugly to an understatement
Has terrible track record (Lost to Johnny Cage!)
Brutally slain by D'Vorah.